A little piece of 'La Belle France' in Wellow

Our boules piste provides the ideal venue for an early summer evening's relaxation and socialising alongside gentle exercise.
Regular weekly Boules Group 'soireé' take place from 6.00pm each Wednesday and 2:30om on Sunday in the summer months. On Thursday at 7:00pm the piste is used for League matches. Outside of these times it is available for use whenever people want it.
All villagers, beginners and experts, are welcome to come along to the 'piste' and join in, or just to sit and watch the fun. There is no need for your own equipment; plenty of spare boules are available for newcomers. Refreshments are 'de rigeur' so please bring your own to share with the winners and losers. Plastic glasses are recommended.
Following play, the Boules Group often go to The Fox & Badger to discuss 'all things boules'. On sunny Sunday afternoons, families are welcome to pack a picnic and join the Boules Group for a game: 2:30pm onwards.
News
31st March 2021 – Play starts again at the piste
COVID-19 – All play stopped for most of the year.
New Years Day 2020 – A Wellow Boules gathering that's become a village tradition. Lots of friendly banter and fun playing boules, whatever the weather and warm refreshments in the Sports Pavilion to keep us going.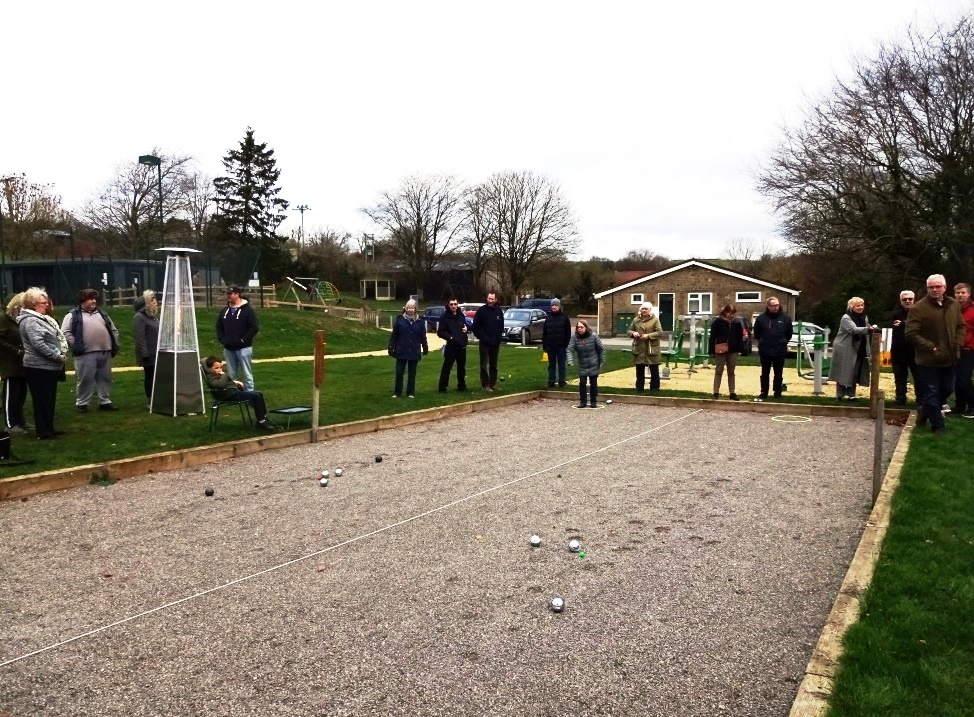 New Year's Day 2019 – Wellow Boules gathered with players and supporters to stage what has become the annual event: Boules & BBQ sur la Piste. Thanks to all who helped us raise £120 for the Children's Play Park Appeal.
In 2018 Wellow Boules entered a team into The City of Bath Petanque – Thursday League.
This was their first move into the world of competitive play so they were excitedly nervous to announce this!
They played in Division 4 and finished 5th – not too shabby for their first attempt!
In 2019 a new 5th Division was added to the Bath League – Wellow Boules played in Division 4
They achieved 1st position and will be promoted to Division 3 in 2020.
Congratulations to all that turned-out to play for the team.
Get In Touch
Fancy giving it a go? Please email : wellow.boules@gmail.com
For more information please see our website: Wellow Boules
Allons tous le mercredi soir et dimanche après midi?!