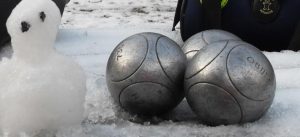 Boules is having a winter break but….
        Salute 2017!
Recommencer en 2018……
On: New Years Day @ 1pm
All are invited to join us: for fun, games and some wintery fresh air
There will be Vin Chaud sur la Piste avec BBQ Bangers et du pain!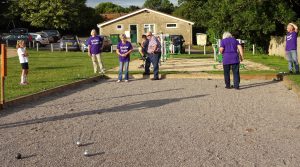 A little piece of 'La Belle France' in Wellow. Our boules piste provides the ideal venue for an early summer evening's relaxation and socialising alongside gentle exercise.
In addition to usage whenever people want it, a regular weekly informal Boules 'soireé' takes place from 6.00pm each Wednesday in the summer months.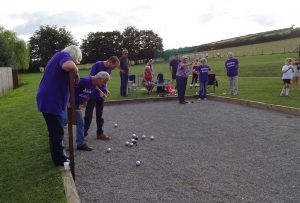 Following play, on the first Wednesday of the month, we go to The Fox & Badger to discuss 'all things boules'.
All villagers, beginners and experts, are welcome to come along to the 'piste' and join in, or just to sit and watch the fun. There is no need for your own equipment, we have plenty of spare boules for newcomers.
Refreshments are 'de rigeur' so please bring your own to share with the winners and losers. Plastic glasses are recommended
Our 'Little Star' player has a keen eye for the boules!
Future Plans:
We would like to offer local children the opportunity to play boules and are wondering whether a Saturday or Sunday session for parents and their children would be of value. We are keen to hear from anyone that may be interested.
We would also like to know if anyone would like to join a friendly, 'strictly for fun' weekday group.
Please email feedback about this to:  wellow.boules@gmail.com
Our friends from Bath Pétanque Club are keen that we join the local petanque league and have offered coaching tips and support – so those with a more competitive bent will be able to exercise that as well.
For more information please see our website: Wellow Boules
Allons tous le mercredi soir!