Our cricket facility consists of two full size, all weather cricket nets that are constructed to ECB standards.
The nets are there for people to use whenever they wish. Such use is at people's own risk and people will have to provide all their own kit.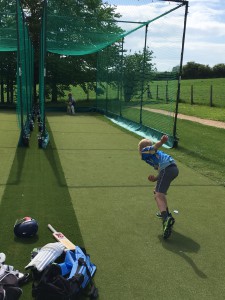 However, the cricket group will also be running nets sessions on most weekends over the summer. These will take place at 10am on Sunday mornings for approximately 1.5hrs and all are welcome! So whether you are an experienced hand or a complete beginner please come along and we will fit you in somehow.
If you plan to get involved, then please let Keith or Richard know if at all possible – as you will then also be kept up to date through email of plans for new sessions. As the numbers grow we'll make sure we increase the number of sessions to accommodate.
Anyone who is interested and wants to join in should contact:
Keith Banks (07919543852) or Richard Waters (07768 454149).