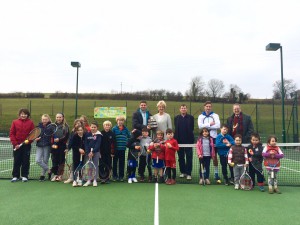 The two floodlit tennis courts, built to the highest LTA specification, provide a fine hardcourt tennis facility for beginners and experts alike.
The tennis group organise everything from informal drop-in sessions (currently on Sunday mornings and Thursday evenings) to professional coaching from the LTA supported Team Bath coaches from Bath University who have an unrivalled reputation in the South West of England. Details of current coaching sessions and group playing times can be found on Wellow Valley Tennis's linked website
There are special sessions for young children, beginners and improvers and two sessions (weekdays and weekends) for organised doubles play. Competitions and tournaments will be organised as the year progresses.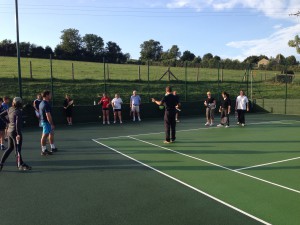 Weekly Organised Sessions:
Monday – Coaching 4-8pm – Team Bath Tennis Coaches
Wednesday – Organised friendly doubles
Thursday – Club Night 6-9pm – Stefan Chauveau
Friday – Coaching 10-11.30am – Team Bath Tennis Coaches
Saturday – Coaching 10-1.30pm – Team Bath Tennis Coaches
Sunday – Organised Doubles – 4-8pm – Ian Pidgen
Events:
Sports Pavilion Launch Event – Saturday 5th May
Summertime Slam Tournament – Sunday 1st July
GBTW (Great British Tennis Weekend) –  Saturday 21st July
Autumn Slam Tournament – Sunday 9th September
Joining WVT:
For details about how to join Wellow Valley Tennis, book courts and play, go to joining and booking instructions. For membership enquiries contact: Andy Smith on 07715 620347 or email:  wvtennisclub@gmail.com