Sunday morning cricket nets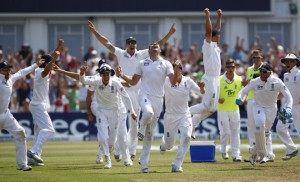 This picture shows the reaction at the England training camp  on Friday when they found out the Wellow Nets Project had been completed!
Yes, our cricket nets are now fully functional and a big thanks must go to Richard Waters and Mike Clarkson for making it happen and to all the benefactors who so generously funded the project. We have ended up with a fantastic facility.
So, down to business….We will be running sessions at 10am on Sunday mornings for approximately 1.5hrs and all are welcome! So whether you are an experienced hand or a complete beginner please come along and we will fit you in somehow. However, in the meantime they are there to be used so please don't wait for a session – just go and play cricket.
It would be useful for us to understand who is likely to turn up so if you are interested please make yourself known to either Keith or Richard. We'll then generate an email list and keep you informed on what is happening throughout the season. If the numbers grow we'll make sure we increase the number of sessions to accommodate.
Howzat for great opportunity and chance to get together?