Come and Join in with the Cricket
If you scrunch up some newspaper tightly and tie some string around it you can make a football and start playing. Other than perhaps running, there is no lower barrier to entry for any sport. This is surely the reason football has evolved into a sport that dominates our back pages, our TV screens, our pub banter, our hearts and minds, hopes and dreams and the world stage.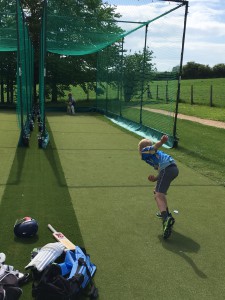 With this in mind, Wellow Sports has worked extremely hard to ensure that the barriers to joining in are low and the opportunities high. Our aim is to make our facilities accessible to everyone.
The cricket nets are no exception. We offer an ECB approved net facility, with ECB qualified coaches, all the balls, stumps, pads, gloves, bats etc that you'll need to start playing cricket. Just turn up. We have two nets, a big field and a lot of adult supervision so we can cater for all abilities. Our aim is primarily to introduce people to the sport, to develop the passion and enjoyment that kids can carry through the rest of their lives. Although in the future we will have to find a way of generating enough money to cover the costs, for now we offer these services for free.
Wayne Gretzky famously said "you miss 100% of the shots you don't take". He was presumably talking about ice hockey but there can be few better metaphors for our lives today.
So whether it's tennis, football, cricket, rugby, boules; whether it's at Wellow Sports or not; whether it goes somewhere or not; take that shot…….but I hope it's cricket 🙂
For more details contact: keith@bankses.com Tel. 07919 543 852; or richard@waterspropertysearch.co.uk Tel. 07768 454 149
For several years we'd had few opportunities to see a play in Wellow – a memorable